Power Supply for Medical Equipment
High Efficiency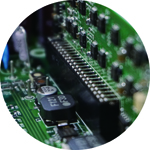 We realized high efficiency in the power source for endoscope camera.
As a result, the endoscope camera was miniaturized. And it was able to contribute to the early detection of illness. not only that, it expanded.
We made it possible not only to diagnose with the endoscope, but also to treat it, and it contributed greatly to its effectiveness.
Downsizing and Lightening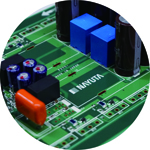 Not only medical equipment, power supply device is the most largest electronic components. The power supply device greatly affect the size of the product how to make it downsizing and lightening.
20 years ago,we developed low noise power supply device for the ultrasound diagnostic apparatus that does not affect color monitor to inherent noise. As a result, the size of the ultrasonic diagnostic apparatus has reduced to 1/4 as compared with the conventional one.
Development Example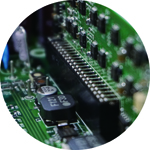 We developed many power supply device that can conform to IEC 60601-1 Ed.3, which is an electrical safety standard for medical equipment. Power Supply Device for …
Ultrasonic Diagnostic Equipment / Ultrasonic Tomography Equipment / Blood Pressure Monitor / Ophthalmologic Examination Equipment / Endoscope Device / Biological Information Monitoring / Ultrasonic Diagnostic Equipment Noncontact Charger for Remote Control / Fundus Camera / Energy Storage System of Medical Equipment …
Case Development Electric Vehicle Field
Li-Ion Battery Management for EV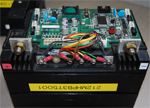 Since the foundation, we focused on lithium ion battery, to jointly developed power supply device and charging related for EV with an automobile company.
The photo on the right side is lithium ion battery.
The control board(BMS) was a revolutionary one at that time.
Currently, this lithium ion control technology is utilized in the our ESS products.
Electric Assisted Bicycle Battery Charger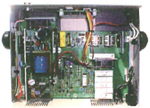 In addition, this technology was used to charge batteries for electric assisted bicycles.
On the other hand, we developed a non-contact charging system for communication terminal.
Our charging technology brought abundant examples.
The photo on the right side is the board of the battery charger for bicycles with electric assistance.
Furthermore, we developed the residual capacity and degradation diagnostic system of lithium ion battery, evolving to more sophisticated system development.
Case Development List
■ Medical Equipment Field
Power Supply for Ultrasonic Diagnostic Equipment
Power Supply for Ultrasonic Tomography Apparatus
Power Supply for Ophthalmologic Examination
Power Supply for Fundus Camera
Power Supply for Endoscope
Power Supply for Biological Information Monitor
Power Supply for Blood Pressure Monitor
Ultrasonic Diagnostic Noncontact Charger
Acupuncture Electrode Low Frequency Treatment
■ Electric Vehicle Field
Electric Assisted Bicycle Battery Charger
Battery Diagnostic System
Li-Ion Battery Management for EV
Industrial Motor Inverter
Battery Management System
Automotive DC / DC Converter for EV
Li-Ion Battery Charger for EV
Charger for Forklift
Charger for Lead Battery
■ Information Communication Field
Rack Mount Power Supply for CATV Station
Communication Base Station Inverter
Communication Relay Base Station Charger
Contactless Charger for Mobile Terminal
Redundant Power Supply for Communication Equipment
Multistage Li-Ion Battery System for All Environments
■ Audio Equipment Field
Digital Power Amplifier Module
Small Portable Audio Equipment
Power Supply for Automatic Play Piano
Power Supply for Digital Acoustic Mixer
Power Supply for Ultra High Quality Sound
Polarity Checker for AVW
■ Housing Facility Field
Solar Panel System
Controller for Bubble Bath
Digital Amplifier for Bathroom Music
DC Power Supply for Security Equipment
Fresh Jet Power Supply Unit
Switching Power Supply for Water Heater
Controller for Beverage Cooling System
Power Supply for Electronic Refrigerator
Power Supply for Cool Incubator
Power Supply for Lily Chair
Smoke Generating Device
Flash Beacon
Backup Power Supply for Gas Stove
■ etc
Hot Water Sound Controller
Power Supply for Floodlight
Yacht Controller
Power Supply for Disc Inspection
Power Supply for Alster Checker
Power Supply for Printer
Power Supply for Alcohol Checker
20 Ticket Type Power Supply for Vending Machine